Profile
Jenny Wallin Sander
Member - Gotland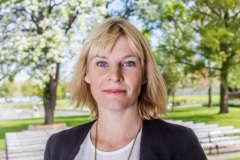 Sports Contact point:
Cycling, Football and Triathlon.
Member Islands Contact point:
Bermuda, Falkland Islands, Gotland and St. Helena
Sporting Background
Competed in the 2013 NatWest Island Games in Bermuda and won a bronze medal in Beach Volleyball.
IIGA
Chairman of the NatWest Island Games 2017 Organising Committee in Gotland
Profession
HR and Department Manager. Bachelor of Science in Sports and Master of Science in Health Promotion.
Hobbies
Many sports including Volleyball. Formerly Chairman of the Climbing Society of Gotland and the Gotland Aeronautical Club.