Profile
Paul Scope
Member - Bermuda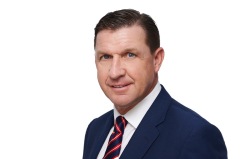 Sports Contact point:
Cycling, Football and Triathlon
Member Islands Contact point:
Bermuda, Cayman Islands, Falkland Islands and St. Helena.
Sporting Background
IIGA
Member of the 2013 Bermuda Natwest Island Games Organising Committee. Co-opted member of the IIGA Executive Committee 2011-2013.
General
Paul was a semi-professional footballer in England and Bermuda between 1976 and 1990. He went on to coach club football in Bermuda and then progressed to coach both the women's and men's national team. He is currently the owner of the Bermuda Hogges football franchise, the only professional team in Bermuda. Paul was also a triathlete and a competitive road runner.
Profession
Insurance Broker
Hobbies
A keen golfer and spectator of all sports