Chairmans Message
JERSEY - Only six months to go!
Wed, 17 Dec 2014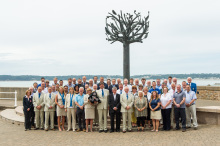 The International Island Games Family
Christmas is nearly here and it is at this time of year when our focus will be on friends and family and recharging the batteries that will need to work so hard next year. For the people of the Member Islands of the International Island Games Association inspiring challenges lie ahead. In Jersey the preparations for the largest ever NatWest Island Games and one of Europe's largest multi-sport events are well advanced. In the New Year more details will follow and more plans will be finalised.

Preparations are also underway for the 2017 NatWest Island Games in Gotland, Sweden with a new Games Director recently being appointed, Mr. Per Wallstedt. We are also finalising the agreement with Menorca to become the Host of the NatWest Island Games 2019.

There are six exciting months before we will all meet in Jersey. On behalf of the IIGA I wish all the member islands, all the competitors, sponsors, partners and everyone else a peaceful and loving Christmas and an exciting new year.
Take care and see you all soon!

Jorgen Pettersson
Chairman, International Island Games Association