Profile
Owen Le Vallee MBE
Life Member - Guernsey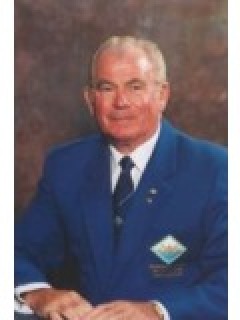 Island: Guernsey
IIGA History:
Executive Committee
Vice Chairman 1985 – 1987
Chairman 1987 – 1989
Honorary Life Member Since 1989
Treasurer 1993 – 2001
Games attendance: 1985 – 2007, 2011
Contributions to the IIGA:
Owen was elected as the first Vice Chairman of the Association in 1985 and subsequently elected Chairman in 1987. In 1989, after his period as Chairman, he was awarded the honour of becoming the second Honorary Life Member of the IIGA for his services to the Association. In 1993 he was elected to the office of IIGA Treasurer and served until his retirement in 2001. During his service to the IIGA Owen made a most significant contribution to the work of the Association by compiling the original Constitution and By-laws.
Owen was elected founder Chairman of the Guernsey Island Games Association in 1985 and became Chairman of the Guernsey Organising Committee for the 1987 Games.
Domestic Profile:
Owen has 2 sons and 6 grandchildren
Sporting Background:
In his younger days, he was a keen all round sportsman, competing in Athletics, and having played Football, Badminton, Cricket and Roller Hockey, representing his Island on many occasions. It is however, for his services as an international sports administrator over the past 40 years, that he is best known. He was a founder Member and Secretary of the Guernsey Sports Federation 1953 - 59 and founder Secretary of the Guernsey Sports Council from 1966 - 1971. He also served as Treasurer and President of the Council.
In 1968 Owen was a founder Member of the Guernsey Commonwealth Games Association and served as its Secretary and Chairman for over 30 years. He has attended 8 Commonwealth Games, 6 as General Team Manager for the Guernsey Team and as Chef de Mission for the Games in Victoria, Canada in 1994 and Kuala Lumpur, Malaysia in 1998. In 1982 he was elected to the Sports Programme Committee of the Commonwealth Games Federation and served on its International Executive Committee for 10 years. For his service to sport in Guernsey, he has been honoured by his appointment as a Life Vice President of the Guernsey Commonwealth Games Association, Life Membership of the Guernsey Athletics Club and the Sarnia Walking Club.
Profession:
Owen was an insurance company manager and financial adviser. He was elected as a Guernsey politician in 1985 and served for 9 years in the Government of the Island as a Deputy, during which time he was Vice President of the Guernsey Recreation Committee.