Boost for Orkney Swimming from NatWest Sports Development Programme
Tue, 01 Nov 2011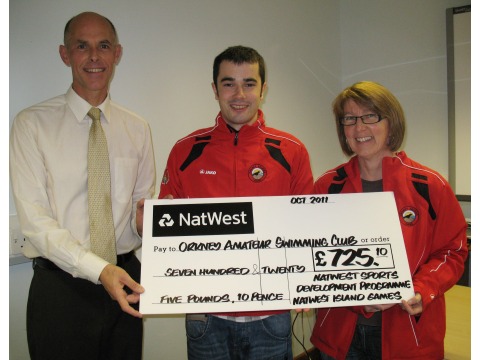 Orkney Amateur Swimming Club (OASC) has received a boost from the NatWest Sports Development Programme with a grant for £725 towards the cost of travel and accommodation for OASC's lead coach Ben Delaney while attending a UKCC Level 3 Coaching Swimming course at the Scottish Swim Academy in Stirling this year. The funding has been provided by NatWest through the NatWest Sports Development Programme which supports the IIGA Member Islands in developing their sports.
Helen Rothnie, President of OASC said "Having a level 3 swimming coach in Orkney will be a significant step forward for the club. It will impact on grass roots sport in that, as a qualified level 3 coach, Ben will oversee the coaching strategy of all club swimmers and lead a team of level 1 and 2 coaches. This will allow implementation of a consistent, club-wide coaching strategy, which will ensure consistent standards and effective training at all levels of the club, from the youngest recruits to older squad members training for regional and national competition as well as for the NatWest Island Games."
Click here for more details of the NatWest Sports Development Programme.