NatWest Sports Development Programme assists Manx Archer to Silver Medal
Wed, 01 Aug 2012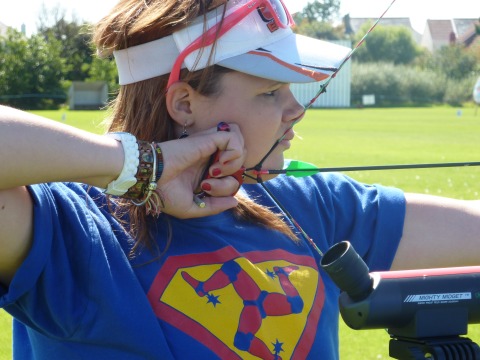 Isle of Man Sportswoman of the Year and GB International Aalin George won the Silver medal in the Ladies Compound Division at the Commonwealth Regional Championships, incorporating the EuroNations Archery Championships, held in Guernsey recently.
Aalin's FITA score of 1347 was only beaten by 4 points by former World Champion and England competitor Nichola Simpson, who shot 1351. It was a fiercely contested division with the top five positions being separated by only 6 points. Aalin entered the last of the four distances in fourth position but recorded a fantastic score of 357 for the 30m distance - just 3 points short of the maximum 360 - to claim a much deserved silver. Once again proving her status as the Isle of Man's leading lady compound archer. This Grand Master Bowman score should secure her a position at next year's Commonwealth Archery Championships.
In addition to this excellent result, the Isle of Man Ladies Compound Team of Aalin, her younger sister Kirsten and Sarah Rigby took the bronze medal behind England and Scotland respectively.
Sports Aid recipient and Junior GB squad member Kirsten was competing at her first International Tournament and did not come away dissapointed. With a Master Bowman score of 1299 she finished in 9th position overall in the Individual Competition.
Saturday proved to be slightly tricky for the team, with both glorious sunshine and a tricky wind to test the archers. But with such brilliant results, the George sisters have proved that they can shoot well in all conditions. It has been noted by their coach and IOM Team Mentor that they are particularly strong in the wind - no doubt a skill that can be attributed to their training at home on the Isle of Man!
This new Commonwealth Regional Event was organised to promote the sport of Archery within the Commonwealth Nations and to increase its profile towards inclusion in future Commonwealth Games.
Aalin & Kirsten George, Peter Mumford and Sarah Rigby would like to thank and acknowledge all those who have made this trip possible, especially Isle of Man Sport and the NatWest Sports Development Programme who assisted with the travel costs, and to all of the Members of the Isle of Man Archery Club for their support and good wishes.