NatWest Travel Grant assists Orkney AC to 2nd place at the Regional Championship!
Fri, 05 Jul 2013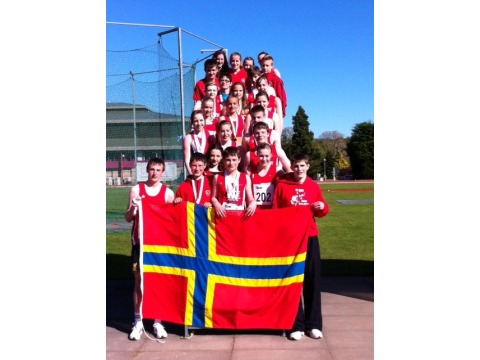 Regional Championship Report
30 athletes, 5 coaches and 3 officials from Orkney Athletic club travelled to Queens Park, Inverness for the Regional Track and Field Championships on Saturday 25th May 2013.
Under 14's, Molly Cant, Charlie Pasotti and Amy Davis all recorded pb's. Amy won the first gold medal of the day with a Championship Best Performance for her jump of 1.50m followed by silver in the 200m. In the 100m Balfour Hay won silver, Kirstin Flett won bronze whilst Mai MacAlister was placed 6th. Balfour also won silver in the 200m with a pb of 27.99s. Charlie Pasotti took a bronze in his first 80m Hurdles. Harry Siderfin showed his strength with silver in the Discus with a pb of 17.05m, silver and another pb of 30.14m in the Javelin and a bronze in the Shot Putt with another pb of 7.40m. Sasha Miller won silver in the Shot Putt with a pb of 7.12m and another silver in the Javelin with a pb of 21.38m. Balfour excelled in the Long Jump with a huge jump of 4.55m taking the gold medal by a considerable margin.
UNDER 16's, Daria Bryers and Taylah Spence competed in the 100m with Taylah taking the gold medal followed by silver in the 200m with a pb of 27.29secs. Euan Rorie got a pb of 30.31secs in the 200m and took a hugh chunk of his pb in the 800m finishing in 2.38.57mins. In the 300m Erina Brown got a pb of 47.54secs and was just outside the medals with a pb of 2.42.73mins in the 800m. In the 400m Andrew Davis won bronze with a pb of 56.77secs whilst Jack Duncan gained a new pb of 57.41secs. Jennifer Bichan smashed her pb to take silver in in 5.09.14mins and Jack Duncan took gold in their 1500m events. Kayla Smith took silver in the Long Jump and Chris Mackay took gold in the High Jump with a pb of 1.65m. Chris also got a pb of 4.47m in the Long Jump as did Andrew Davis in the Shot Putt of 8.10m.
UNDER 18's, in the 100m, both Jodie Drever and Leanne Cursiter went through to the finals where Jodie took the silver medal. In the field Sarah Macphail took gold and a pb with a jump of 1.60m. Thora Cant took gold in the Javelin whilst Coreen Davis took silver in the Long Jump. In the straight final for the 200m Fergus Maclvor and Joe Gregg were 4th and 6th respectively. In the High Jump Alex Stevenson took silver with a pb of 1.70m and Kyle Symonds took the bronze. Alex also got silvers in the Javelin and the Long Jump.
UNDER 20's, Magnus Blair took gold in both the 200m and 400m!
It was a fantastic day of competition, 2nd place overall in the Competition, 9 Gold, 15 Silver and 5 bronze medals as well as 21 personal best performances including a Championship Best Performance. Many thanks must go to Orkney Islands Council and Serco Northlink and to NatWest for their continued support and sponsorship.