NatWest Help Shetland Win the North Atlantic Challenge Cup
Wed, 11 Jun 2014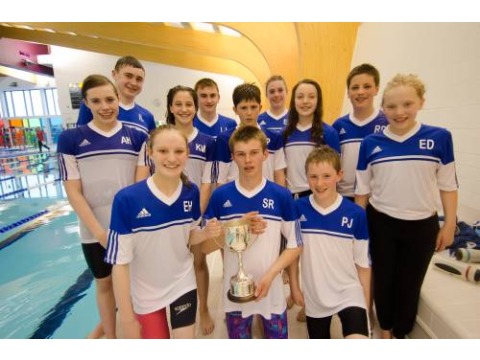 North Atlantic Challenge Cup – 2014
The Shetland County team travelled to Orkney by ferry for the biannual North Atlantic Challenge competition. This took place at the new 25m pool at the Pickaquoy Centre, Kirkwall and gave many of the team their first opportunity to represent Shetland at county level. The team consisted of 3 boys and 3 girls in the 12-13 years age group ( Erraid Davies, Katie Bain, Kayla Manson, Peter Jones, Reece Paul & Euan Polson) and the same number in the 14-15 years age group (Eleanor Hutcheon, Anne Hutchison, Emmie Hutchison, Logan Jamieson, Iain Leach & Scott Riise).
The events were 50m of each stroke, 4 x 50m medley & free relays and a 12 person cannon relay to finish off. All the swimmers performed well with 16 personal best times and the Shetland team achieved 6 new meet records – 3 relays and 3 individuals. Shetland won the event by 127 – 92 points overall. The swimmers and coaches stayed with Orkney swimmers - new friends were made and old friends visited.
Thanks to NatWest for their continued support through the NatWest Sports Development Travel Assistance Programme .