Orkney Schools Athletic Success at Hampden
Tue, 29 Jul 2014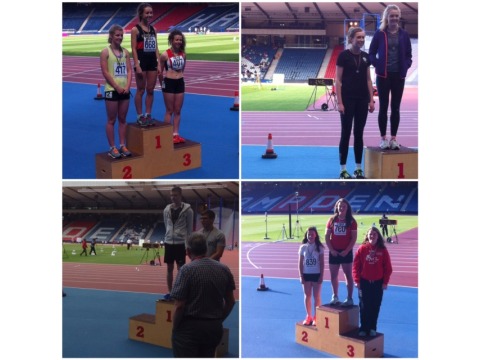 Thanks to a grant from the IIGA NatWest Sports Development Programme Travel Fund 9 students from Kirkwall Grammar School (KGS) and 3 from Stromness Academy (SA) had a memorable Scottish Schools Track and Field Championships in Hampden Stadium, Glasgow. Alongside 183 schools, these Orkney athletes were the first to compete in a championship event within the Commonwealth Stadium! Over 2 days of fierce competition they ran, jumped and threw their best to secure 2 Golds, 1 silver and 2 bronze medals producing personal best and season best performances for their schools and Orkney.
However, the true purpose of this championship was to give all participating athletes (including their lucky coaches!) the opportunity of a lifetime to compete in the Commonwealth Stadium prior to the 2014 Games. Many thanks must also go to Kirkwall Grammar School, Stromness Academy, Serco Northlink, Orkney Athletic Club, the KGS Enrichment Fund and the community councils of Kirkwall and St Ola, Orphir, Birsay and Evie for their financial support towards this trip.
Podium places for Kirkwall Grammar School were GOLD, for the 4th year in a row, for Thora Cant in O17 with a javelin throw of 32m. Alex Stevenson had a great javelin O17 competition to secure his first Scottish Schools GOLD medal with a throw of 42.29m, unfortunately injury limited him with performance in the Long Jump & High jump. Sarah Macphail took SILVER in O17 high jump at 1.55m and an on-form Anna Tait took BRONZE in the O17 1500m smashing a further 4seconds off her recent JIC record with a fantastic time of 4.52 minutes. Also competing for KGS was Andrew Davis who achieved a PB time of 24.51s in the 200m semi-final and a 400m heat time of 54.28s. Amy Davis placed a close 4th in the under 16 high jump final at 1.45m, Joe Gregg in his first scottish schools achieved pb performances in both his 200m 25.18s and 400m 55.11s O17 heats. Jack Duncan came a tantalising 4th place in his U16 1500m with a pb time of 4.23 and was so close to a podium place. Magnus Bichan reached the final of the O17 1500m and heat of 800m equalling season best times. Finally Jodie Drever achieved season best times getting to both finals of the O17 100m and 200m (27.81s).
A podium place came for Stromness Academy with Erin Montgomery in U16 shot putt. She left it to her final throw of the competition 9.24m which secured her the BRONZE medal. Balfour Hay in his first Scottish Schools achieved both the final of the U16 long jump with a PB jump of 5.11m and 400m time of 57.65s. Taylah Spence competed through to the semi-finals of the under 17 100m 13.11s but sadly injury prevented her from competing in the 200m.
These championships gave all the Orkney athletes the experience of what it is like to compete in a top level athletics venue which included use of Lesser Hampdens warm up track, call rooms and officiating by commonwealth officials in the Commonwealth Stadium.
Kevin Tait and myself (Aly MacPhail) would like to say it was an honour to take this group of deserving athletes - who have trained hard to achieve the qualifying standards required to compete at these championships - and hope all those who took part will have memories which will last a lifetime with them.