Ynys Mon Athletics
Tue, 16 Dec 2014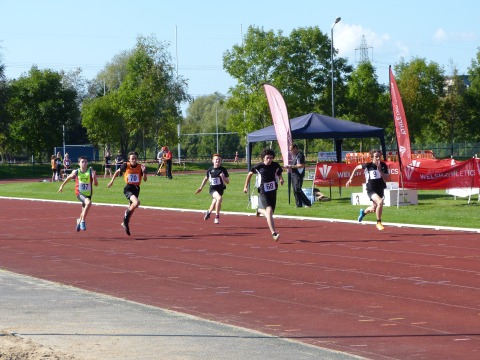 On the 21st September 2014 the first ever Ynys Mon Athletics Open meeting took place at Treborth Athletics Track with over 100 competitors taking part. The event was hailed as a great success and will form the basis of a new talent identification programme.
The event was organised by the Ynys Mon Athletics Association who arranged for qualified officials from all across Wales as well as essential equipment such as photo finish, electronic timing, EDM and wind gauges. A new database has been established not only to record the results and performances from this event but it will also be able to track the progress of athletes from under 13's through to seniors, thus creating a pathway from grassroots / development to performance at the Nat West Island Games.
The event was attended by local politicians, members of the Ynys Mon Island Games Association and the President of Welsh Athletics, who was so impressed with the set up and delivery of the event that she proposed that a regional and national fixture be held at Treborth in the near future. The event will now be held annually which will hopefully grow in numbers and popularity. Thanks to the sponsorship of the Nat West Sports Development Programme, this initiative will be a significant factor in creating future champions at the NatWest Island Games for Ynys Mon.