Orkney Athletes prepare for the NatWest Island Games in Jersey
Tue, 02 Jun 2015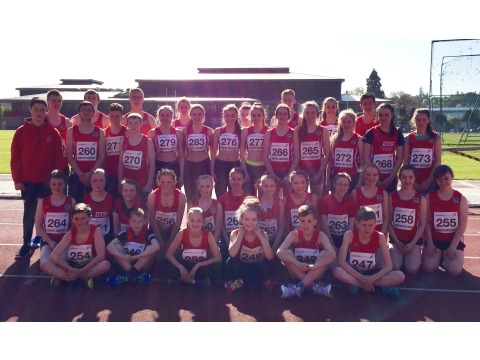 The Scottish North District Regional Athletics Championships took place in Bught Park at the Inverness Leisure Centre on 23 May 2015. This championship has both regional and national status as the East and West regional championships also take place on the same day.
Orkney Athletic club travelled with 41 athletes ranging in age from 10 to 25 years along with 4 coaches and 2 officials. This was our biggest travelling group for a few years and the Orkney team stood out in their red team kit and was warmly welcomed into the stadium.
On a beautiful sunny day Orkney won 12 gold, 8 silver and 12 bronze medals with a fantastic 29 personal best performances achieved. This was great preparation for 13 of the athletes who will compete at the NatWest Island Games in Jersey.
Many thanks to the NatWest Sports Development Programme for the travel grant which helped reduce the financial costs of attending this competition enabling such a large number of athletes to compete.