Cayman Islands Table Tennis prepare for Jersey
Mon, 08 Jun 2015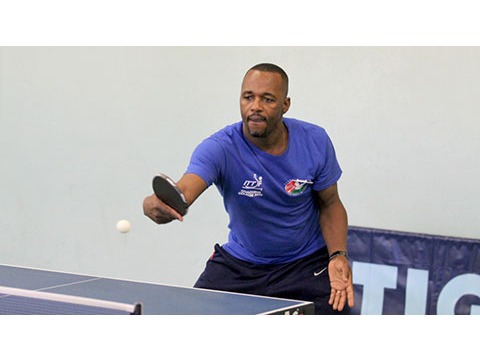 The Cayman Islands Table Tennis Association is developing rapidly as it popularizes the sport by providing a variety of options to play the game.
Every Tuesday and Thursday at 7:30 p.m., members play recreationally, go to be coached and train or to compete at a high level at the John Gray High School auditorium.
This mix of table tennis enthusiasts ranges from juniors ages 12-19 male and female to seniors over 50.
As the table tennis association continues its progress toward developing programs and tournaments in the schools, it remains focused on showcasing the talents of its local players at home and abroad. To this end, it has successfully hosted two local tournaments and also competed in one international tournament.
The association has again selected a national team to compete in the NatWest Island Games in Jersey from June 27 to July 3.
The CITTA team of 2011 that went to the Island Games in Isle of Wight were exposed to high levels of competition and achieved limited success, finishing 15th of 16 teams.
Building on that experience, a much stronger team will go to this year's Games with the aim of finishing considerably higher.
The team is in intense training and will consist of five players and a team manager. The squad is Ansel Tempral (team captain), Donovan Nelson (national champion), Leigh Hipkins, Peter Smith, Claudia Stich and Robert Sairsingh (manager).
The team recently competed in the Cayman National/CITTA Table Tennis Championships at the UCCI multipurpose Hall, which Nelson won. Smith was second, Hipkins third and Tempral fourth. The women's champion was Claudia Stich, Mariah Kharitidi came second, Bianca Francis third and Reshma Sharma fourth.
The championships showcased the best talents in the Cayman Islands and patrons saw some great performances by the juniors too in the Under-14 boys division, which was won by Calum Lindsay for the second time. Runners-up were Alex Playborn and Caden Stradling third. Other competitors in the U-14 category were Oskar Bjuroe, Jake Serpell and Alex Priestley.
In the second division competition, Claudia Stich was the champion, Robert Sairsingh came second, David Franca third and Michael Ricketts fourth.
In the men's 50 and over, Robert Sairsingh was first, Dr. Rommel El-Madany second and Gary Hester third. David Franca won the U-16 boys.