IIGA Technical Official forms the Jersey 2 Africa 4 Football Foundation
Tue, 23 Jun 2015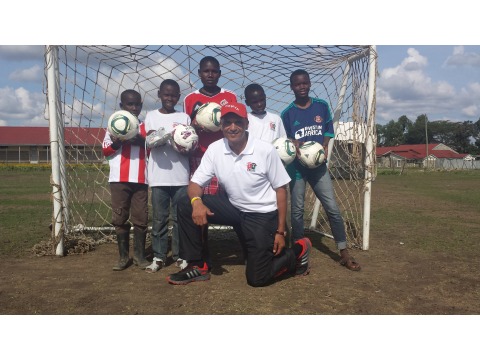 There are many unsung heroes at every sporting event and the NatWest Island Games is no exception. For every sport at the Games a Technical Committee is appointed to work closely with the Host Islands to ensure that the sports events are managed professionally. The members arrange for updates to the Sports-By-laws, help to find qualified officials and deal with any appeals during the Games. One of these heroes is Ricky Weir who has been the Chairman of the Football Technical Committee since 2011. He has now diverted the benefit of his football knowledge and background developed from over 40 years as a player, coach, manager and Island FA president from his adopted homeland of Jersey to the slums of Nairobi.
Jersey 2 Africa 4 Football Foundation whose mission is dedicated to improving young lives in Africa through the power of FOOTBALL is a Jersey based Non Profit organisation & charitable trust set-up by Weir, a former Jersey Footballer of the Year during his playing days and more recently a President of the Jersey FA (2006-2012). It's formation stemmed from a visit to Nairobi in Nov 2012 with the simple intention of helping to distribute locally donated sports kit to children and adults in the Mukuru slum, which forms part of the Embakasi district, home to over 1 million people living in complete squalor most with no electric, running water or sewerage services.
The principle aim of his trip was to give a hand redecorating a local school run by Jersey residents Paul and Gill Bell, but on the first day after being greeted by well over 100 young footballers and their coaches, Ricky was asked if he would do some coaching. Despite some significant challenges, principally lack of equipment and a shocking pitch, he found himself putting his boots back on after 10 years and conducting numerous coaching sessions involving over 250 players under the hot African sun teaching and coaching on a rock strewn football field.
Twelve days of hands on involvement with coaching, supporting, managing and teaching players, coaches, management and officials created the desire for Ricky to help them going forward in a sustainable way, which then created the inspiration to form the Jersey 2 Africa 4 Football Foundation, which was formed on 18 January 2013.
Working within one of the worst slum regions on the outskirts of Nairobi the Jersey 2 Africa 4 Football Foundation in the past 2 years has achieved its mission in terms of improving and enhancing the lives of around 300 young men and women, boys and girls in the Mukuru slum district of the Embakasi region in Nairobi City, which is home to approx. 1.3 million people, by successfully
Opening the Jersey 2 Africa 4 Football store to receive kit donations and raise funds
Shipping over 1,000 kilos of boots, balls, shirts, shorts, team kits, training wear and equipment;
Funding purchase of new goal posts;
Paying affiliation fees and player registration fees to Kenyan FA for season 2014;
Funding bus transportation costs for travel to matches;
Sponsoring school education for a 13 year old boy from the slums;
Delivering over 20 coaching sessions to boys and girls from age 8 to adult;
Delivering classroom planning and coaching sessions for coaches and officials.
For more information on the charitable work being carried out by Ricky Weir and how you may help/contribute if interested please visit http://jersey2africa4football.org/