Report from 2015 AGM in Jersey
Mon, 06 Jul 2015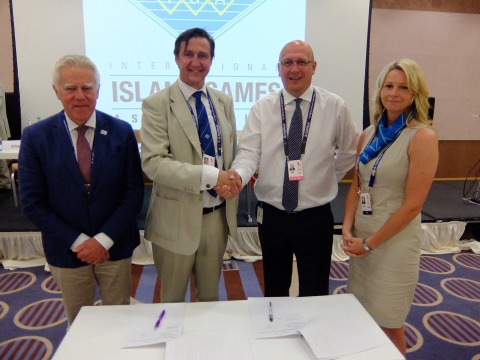 Information from the Annual General Meeting held in Jersey
During the 16th NatWest Island Games in Jersey the IIGA held its Annual General Meeting at the Radisson Blu Hotel on 30 June 2015.
The 24 Member Islands were informed that Menorca, following a mutual agreement between the Menorca Island Games Association and the IIGA Executive Committee, will not be hosting the NatWest Island Games in 2019. A new Host Island for 2019 will be announced later this year. A number of Member Islands declared an interest in becoming a Host Island for 2021 onwards, Guernsey, Orkney, Ynys Mon, Isle of Man, Menorca and the Faroe Islands.
The 2017 NatWest Island Games will be held in Gotland , a Swedish island in the Baltic Sea. The next AGM will be held on Saturday 2 July 2016 in Gotland when all of the Member Islands will visit the island to preview the sports facilities and accommodation.
The Executive Committee was also elected as follows:
Chairman Jorgen Pettersson (4 years)
Vice Chairman James Johnston (2 years)
Treasurer Jerry Whitsey (4 years)
Member Paul Scope (4 years)
Member Andrew Inkster (2 years)
Member Anu Vares (2 years)
Honorary Legal Advisor Gill Christian (4 years)
Honorary Medical Advisor Frank Vaughan (2 years).
At the meeting a Contract between the IIGA and NatWest was signed confirming the title sponsorship for the NatWest Island Games in 2017 which will be held in Gotland (see above photograph)
Chairman Jorgen Pettersson
Media
BBC Radio Jersey highlights montage