CHAIRMAN'S MESSAGE - Master Contract with Gibraltar Signed
Thu, 10 Dec 2015
Master Contract with Gibraltar signed

Following the recent announcement that Gibraltar will host the 2019 Island Games I can now confirm that the Games Master Contract has been signed by the Gibraltar Island Games Association (GIGA) and the International Island Games Association (IIGA).
The Contract was initially signed by Linda Alvarez, President of GIGA; Reagan Lima, Vice Chairman of the Gibraltar Island Games Organising Committee and Ernest Gomez, Chief Secretary, Her Majesty's Government of Gibraltar.
It was then sent to the Shetland Islands where it was signed on Sunday 22 November 2015 by IIGA Vice Chairman James Johnston and myself.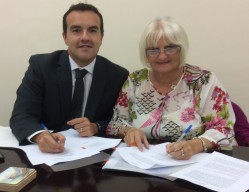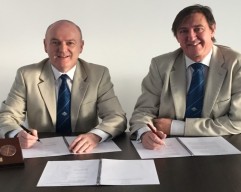 Photos: Reagan and Linda James and Jorgen
"We are pleased to have finalised the next stage in the planning for the 2019 Games and
now for the second time Gibraltar will become a Host of the Games. Gibraltar is a founder member
of our Association and has shown determination and
responsibility in coming forward as future hosts ", James Johnston
commented.
Mr Johnston, who took part in an Inspection Visit to Gibraltar earlier this
year, is pleased with the preparations so far:
"There is a genuine and inspirational interest in sport in Gibraltar and I am sure this will help create a successful Games in 2019"

The signing of the Contract took place in connection with my recent visit to Shetland when I was invited to be a guest speaker at the Shetland Sports Awards.
The event attracted around 300 guests and as part of my speech I talked about
the need for role models in sport and in life:
"Some of you will be rewarded tonight but most of you will not. That's how
competition works and I want to emphasise that in sport you are all
winners. Those who are successful tonight will receive their awards thanks to the
rest of you. Competition is the peak of friendship. All societies should
take example from sport. Play fair, train hard and keep smiling!"

During the Awards I was delighted to make the presentation of the Sportsperson of
the Year award which went to swimmer Andrea Strachan. Andrea broke the Games Record for the 100 metres Breaststroke whist winning the gold medal at this year's NatWest Island Games in Jersey.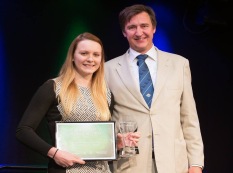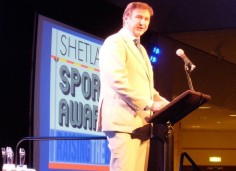 Photo: Andrea and Jorgen
It was also great to see the Team of the Year award being presented to the gold medal winning athletes in the 4 x 100 women's relay at the Jersey Games; Kirsti Grant, Faye Cox, Tamar Moncrieff and Sophie Moar.
Jorgen Pettersson, Chairman, International Island Games Association.