NatWest to sponsor Gibraltar 2019
Tue, 12 Apr 2016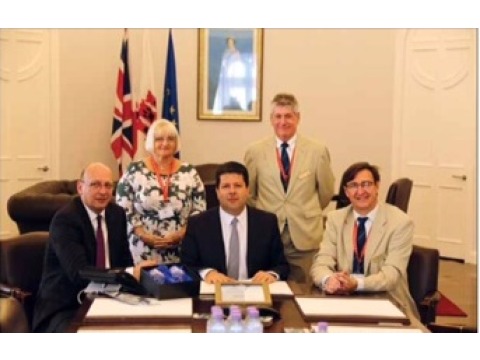 NEWS RELEASE – NATWEST CONTINUES AS TITLE SPONSOR FOR GIBRALTAR 2019
The Executive Committee of the International Island Games Association (IIGA) met in Gibraltar on the 8 April 2016 and on the same day it was confirmed that NatWest will continue as the title sponsor for the NatWest Island Games in Gibraltar 2019.
Together with the Chief Minister of Gibraltar, Fabian Picardo, IIGA Chairman Jörgen Pettersson and Managing Director of NatWest, Steve Camm, signed the Contract on Friday 8 April 2016 which confirms that the Games in Gibraltar 2019 will be the NatWest Island Games XVIII. (see Photograph below).
The partnership between IIGA and NatWest, which started in Gotland in 1999, has made it possible for the Association to develop the NatWest Island Games into one of the largest multisport events in the world. Competitors from our 24 member islands come together every second year to compete in sport. The next NatWest Island Games will be held in Gotland in 2017.
Jörgen Pettersson:
"We are glad to announce that our co-operation will continue. We have over the last 17 years developed a genuine relationship which is great for the IIGA, NatWest and the Host Islands."
Steve Camm:
"We are delighted to formally confirm our ongoing sponsorship for the event in Gibraltar in 2019. We are looking forward to Gotland next year and Gibraltar in 2019. We are confident that the NatWest Island Games will continue to be a celebration of sport and friendship. We remain proud to be a part of this unique event that brings islands and islanders together.''
Apart from organising the biennial NatWest Island Games the IIGA and NatWest also contributes towards sports development within the Member Islands. The NatWest Sports Development Programme commenced in 1998 and has contributed over £160,000 to assist our Member Islands to travel to events, train and qualify coaches and officials and provide sports development oportunities.
More information: Chairman Jörgen Pettersson, tel +3584573135640