Report from the 2018 AGM
Wed, 11 Jul 2018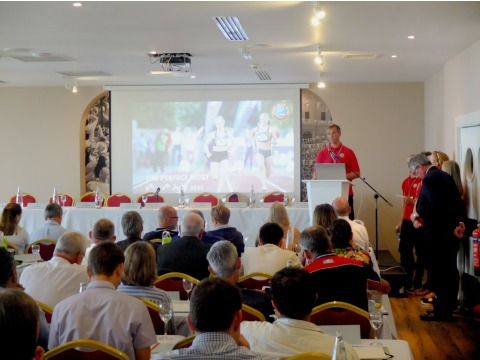 The Annual General Meeting of the International Island Games Association was held at The Rock Hotel in Gibraltar on 7 July 2018.
Over 60 delegates heard first from the Organising Committee for the 2019 NatWest International Island Games to be held in Gibraltar. The Chair, Linda Alvarez and her team had on the previous two days showed all of the delegates the sports facilities and accommodation options. The size of the building programme for the new sports facilities is something we have never seen before; a new swimming pool, athletics stadium, sports halls, squash centre and shooting ranges; this will provide world class venues for our competitors and a fantastic legacy for all Gibraltarians. A refurbished housing development and new university halls of residence will create a Games Village for most of the competitors, again something we have not seen before at our Games.
Next we had a progress report from the Organising Committee for the 2021 NatWest International Island Games to be held in Guernsey. The team led by Chair, Dame Mary Perkins are well on schedule with their preparations and we look forward to going to Guernsey, one of our founder members which will be the first Island to host the Games for a third time.
Finally we heard a highly professional and enthusiastic bid presentation from the Orkney Bid Committee for the 2023 Games, following which the delegates voted unanimously to award the Games to Orkney.
Jörgen Pettersson, Chairman of the International Island Games Association, said: "Congratulations to Orkney, one of our founding member islands! Ever since the start of the IIGA in 1985 Orkney has enthusiastically taken part in the NatWest International Island Games. Orkney will be the twelfth host island of the Games that brings islands and islanders together in friendly competition."
This means that we now have selected a host island for the third time by negotiation rather than the previous way of having competitive bids. This follows a decision made by the IIGA to change the process; in the "friendly games" we would rather see our Islands spend their time and money on sports development rather than undertaking expensive bid campaigns. It is interesting to see that our friends in the larger multi-sport events appear to be following our lead!
Following the AGM, a Workshop was held for the delegates to consider the future of the Games. Many thanks to all of the representatives from our Member Islands for the creative and enthusiastic discussions which will make it easier for the Executive Committee to formulate the IIGA's long term strategy.
Things are looking good for the future of the IIGA. NatWest International has extended its' title sponsorship again through to 2021 meaning that our friendly and extremely productive partnership will last at least 24 years. We have host Islands confirmed until 2023 and negotiations are well advanced with potential host islands up to 2029 (and beyond!).