Annual General Meeting of the IIGA and the NatWest Island Games 2009 Aland
Thu, 09 Jul 2009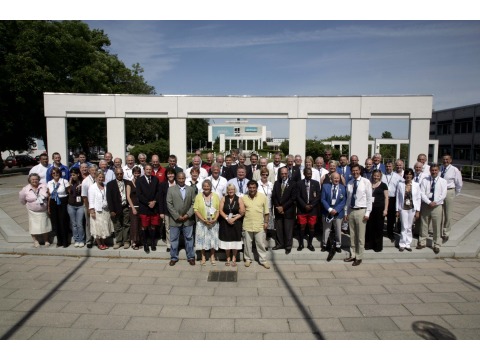 Delegates from 24 of the 25 Member Islands attended the Annual General Meeting of the International Island Games Association (IIGA) in the Parliament Building of Aland on Tuesday 30th June 2009.
One of the items on the Agenda was the election of the Executive Committee to serve for the next 2-year term, commencing immediately after the Closing Ceremony of the NatWest Island Games XIII - Aland 2009 until the Closing Ceremony of the NatWest Island Games XIV in the Isle of Wight. (For more details about the NatWest Island Games 2011 please visit http://www.natwestislandgames2011.co.uk)
The exisiting Executive Committee was re-elected: Chairman Jorgen Pettersson (Aland), Vice Chairman James Johnston (Shetland), Tresurer Eric Legg (Guernsey), Committee Members Anu Vares (Saaremaa), Robert McGinnigle (Jersey) and Andy Varnom (Isle of Man) along with the Honorary Medical Adviser Dr Carl Clinton (Jersey). The new Honorary Legal Adviser is Ms Gillian Christan (Isle of Man) who replaces Geoffrey Karran (Isle of Man). The retiring Honorary Legal Adviser Geoffrey Karran MBE was elected an Honorary Life Member of the IIGA.
Two Member Islands - Gotland and Jersey - have indicated their intention to bid for the 2015 Games. The Host Island for the 2015 Island Games will be chosen by the Member Islands at the IIGA AGM in June 2010 in the Isle of Wight.
The Executive Committee of the IIGA was very please with the success of the NatWest Island Games XIII in Aland which attracted more than 3000 participants from all 25 Member Islands of the IIGA. 604 medal were presented to athletes from 20 Member Islands and 54 Games Records were set during the week of the Games.
"With great generosity and wonderful hospitality the citizens of the Aland Islands made the week, which started last Saturday, a week that will forever remain in our memories. Thank you Aland!" Chairman Jorgen Pettersson stated in his speech at the Closing Ceremony
The results website of the NatWest Island Games XIII http://www.alandresults2009.com was eztremely popular during the Games week and gathered close to 1.2 million page views. The complete Results Book is now available for download.
For further information please contact Jorgen Pettersson, Chairman of the IIGA Executive Committee (jorgen.pettersson@aland.net, +358 4573135640)