Guernsey to host the 2021 Island Games
Thu, 07 Jul 2016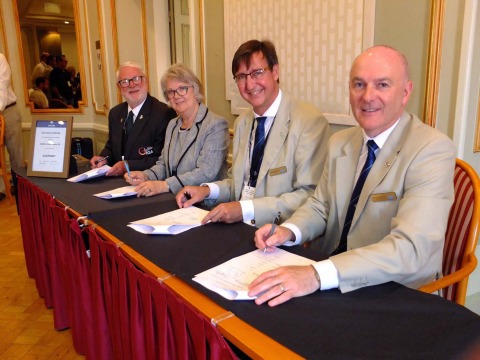 GUERNSEY TO BE THE HOSTS OF THE ISLAND GAMES IN 2021

The International Island Games Association (IIGA) held its Annual General Meeting in Gotland on Saturday 2 July 2016. At the meeting the members unanimously awarded the 2021 Island Games to Guernsey, the first Member Island to host the Games for the third time.
Chair of the Organising Committee Dame Mary Perkins, looking forward to 2021, said:
"Guernsey is proud to have been selected to host the 2021 Island Games. The Island has twice been a former host of the Games, once in 1987 and again in 2003. Many of the facilities required are already built and are of an international standard. Guernsey has strong support from their Government, both financially and in assisting in many ways to ensure the success for all athletes taking part. We are looking forward to fostering and encouraging friendship with all our fellow island communities. As Chair of the organising Committee, I look forward to selecting the team to making 2021 enjoyable and worthwhile to all our friends in the 24 member islands."
During the visit to Gotland the Member Island delegates were shown the sporting venues and competitor accommodation which will be used at the NatWest Island Games 2017.
"Gotland is an experienced organiser and they have everything in place to make sure next year's Games will be a fantastic event" said Jörgen Pettersson, Chairman of the IIGA.
Also at the AGM, Gibraltar announced two additional sports for the NatWest Island Games 2019, Beach Volleyball and Road Cycling.
Linda Alvarez, Chairman of the 2019 Organising Committee said "Gibraltar initially only included the sports we were totally confident of hosting sucessfully. A feasibility study had to be carried out regarding cycling.
Both beach volleyball and cycling are relatively new to our island games association sports and we are pleased to be able to include them to help with their continued development".
More information: Chairman Jörgen Pettersson, tel +3584573135640