NatWest International extend Games sponsorship to Guernsey 2021
Thu, 19 Apr 2018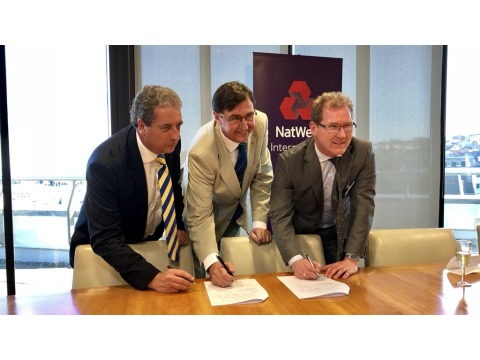 In 1998, NatWest became the official sponsor of the International Island Games and have been proud to be title sponsors of the event for twenty years.

NatWest International is proud to announce their continued sponsorship for the 2021 Games in Guernsey, now known as the NatWest International Island Games.
The NatWest International Island Games are widely seen as the premier sporting event of the biennial calendar, with local sports enthusiasts striving to achieve selection to represent their islands. The Games promote healthy living and friendly competition and offer sporting opportunities to 24 member islands around the world. Four of NatWest International's jurisdictions, Gibraltar, Guernsey, Isle of Man and Jersey consistently have high level participants in the Games.
Through the Games, NatWest International is also able to provide financial support to sporting talent through the Sports Development programme. NatWest International Sports Development grants mean that sport has continued to grow and standards have developed across the member islands. It means we can invest directly in, and support the communities we serve.
The Games also provides opportunities for cultural exchange and social interaction with visiting teams, establishing lifelong friendships and sharing experiences with fellow competitors.
Dame Mary Perkins, Chairperson of the Guernsey 2021 Island Games Organising Committee said:

"We are delighted that NatWest International have committed to their continued support of the Island Games when it comes back to Guernsey in July 2021. The experience that NatWest International has of the Games will help us ensure that we put on the best and friendliest of Games. We look forward to working with them closely over the next three years."

Rob Girard, Island Director, NatWest International said: "We're incredibly proud of our partnership with the IIGA and are delighted to continue our sponsorship of the NatWest International Island Games. I'm looking forward to enjoying a memorable week in Guernsey and continuing to support aspiring athletes with the Sports Development programme."
Jőrgen Pettersson, Chairman, International Island Games Association said: "The partnership between the IIGA and NatWest International has made a major contribution to the development of our Games and it has enabled our Association to grow, both in size and in knowledge. We are extremely grateful for the ongoing and enthusiastic support shown by NatWest International which has inspired us to develop the Games into a movement that changes lives and is a catalyst for the development of island communities."